Why hello there this dandy Wednesday! Phew it was a long one for us. We got up and went to a local amusement park as the last Who-Ra! of the summer. We swam in the pool, went on water slides, had too much junk food, went on some rides, had more food, and went on more rides. So we are pretty exhausted.
I found this amazing website through another site that I randomly found doing a Google search for an Etsy shop I am thinking of opening that does not relate to this site. I know that was a lot to take in. Bare with me here. This site is amazing! I have seen figures like this and just have fallen in love with them. I would love to sit down with her some day and watch her process. I have always been so disheartened that I never got a chance to take sculpture in my undergrad studies. First the teacher retired then when she came back it was my senior year and my schedule was already full. I have always had a passion for creating sculptures. Well my hat is off to this wonderful lady, Michelle Lauritsen, and her fantastic figures. Please stop over and check them out.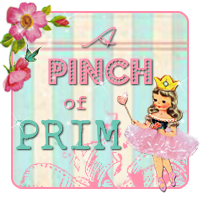 Wishing For Wednesday/ A Pinch of Prim
Here are a few of my favorites
I love her little balloon and the popcorn. How adorable!
The mermaid's pink hair really attracted me. It reminded me of Jenny from Everyday is a Holiday, another amazing site you have to visit. I am craving pink hair and really need to get on it!
The Pearly Sisters. I like all three of them in their own ways but I really like the third one on the right with the glitter scales and the pearl necklace. She is so elegant.
I have her button to her site up on top and add it to your list of great sites to visit. Tell her I sent you! :)